2020 has certainly been a strange year, and even if the months have felt like they've dragged on endlessly, we are finally nearing 2021! Before we know it, we'll be entering another beautiful summer in Sedona. If you're in the market for buying a home, the summer is frequently a hot time to buy a home — although, buying a home in the winter is also not without its own advantages!
In today's blog, we'll be going over some things to keep in mind when buying a home in the summer, to help you decide which time of year is right for you. If you're ready to move to beautiful and sunny Sedona, our team of Realtors can help! We have more than 40 years of experience buying and selling property in Sedona, and can help you find your dream location — contact us today to get started, or browse some of our available listings.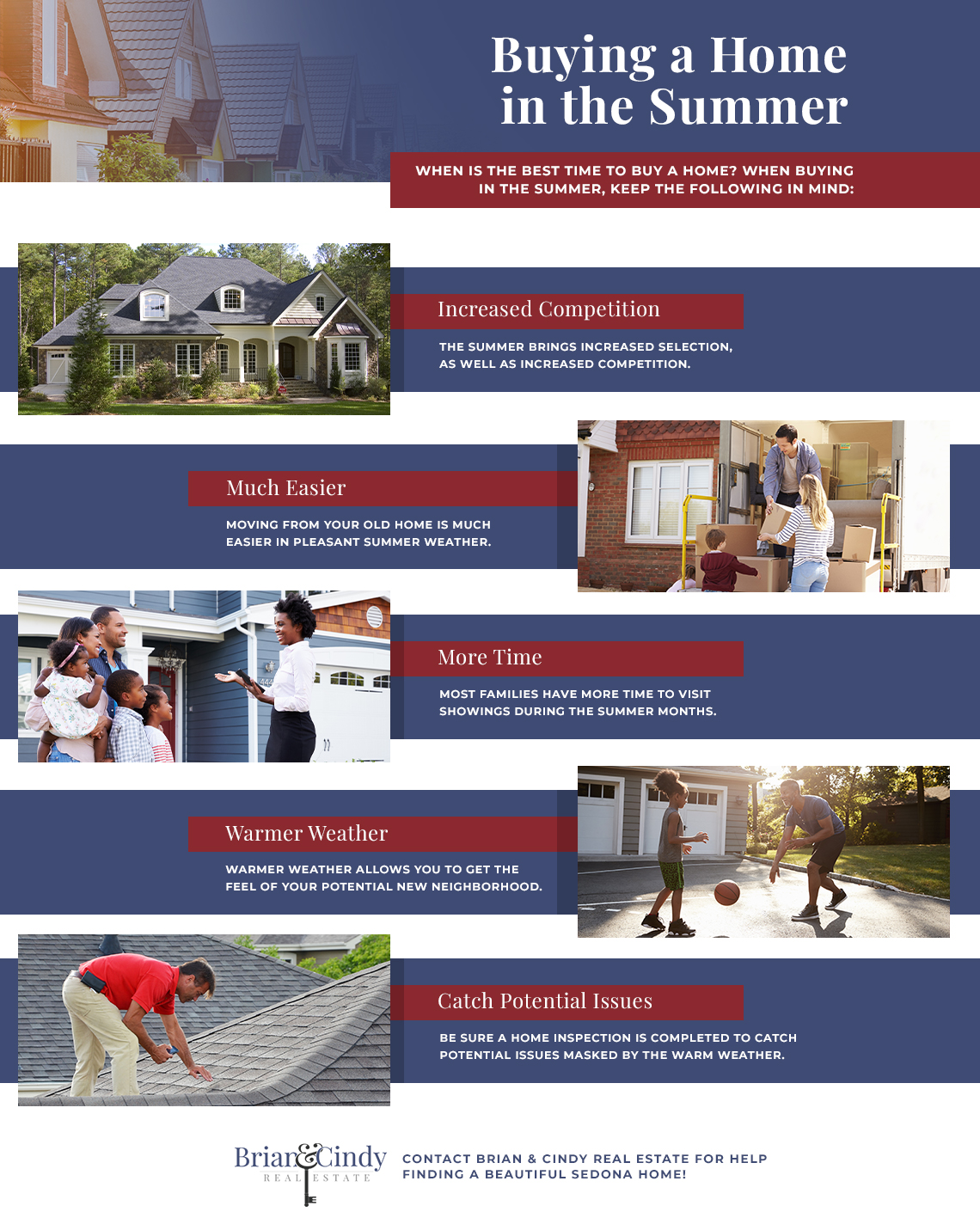 Increased Selection — As Well As Increased Competition
The summer is generally the most active time of the year for buying and selling, which comes with both advantages and disadvantages. With more homes on the market, that leaves a better chance of finding one that meets your specifications — and of course, when you're buying a home, you want one that checks off as many boxes on your list as possible!
However, the increased competition means you may have to strike fast when you find your dream home. You should also consider that you may actually have some leverage over the seller, because they likely want to utilize the warm months for moving just the same as you do. Which brings us to the next point:
Ease of Moving
One of the biggest benefits of choosing to live in Sedona is the warm climate, and one of the reasons people like to buy and sell in the summer is the ease of moving. Moving out of an old home and into a new home is a lengthy process, and no one wants this to be further complicated by poor weather conditions. If you manage to find your dream home during the summer, this is certainly one of the biggest advantages!
Time for the Whole Family to Visit Showings
The summer can be the ideal time to attend home showings, especially if you are moving into a new home with your family. Your kids are out of school and the weather is nicer, meaning the summer months are usually the easiest time to attend showings with your whole family and get everyone's approval on your new property!
Get a Feel for Your New Neighborhood
The summer also allows you to get a good idea of the culture in the home's neighborhood. More people will be out and about around the neighborhood during the summer, and you'll be able to get a better taste of the age groups and favorite activities of your potential new neighbors.
Are you looking for a quiet neighborhood with an older demographic? Maybe one with a younger crowd and frequent barbeques? Or a neighborhood with lots of children for your kids to  make friends with? Viewing homes in the summer, when people are more active, is the perfect time to make sure the new neighborhood matches your preferences.
Watch Out for Potential Issues Come Winter
When you're buying a home during the summer, be sure to think ahead to the coming winter and the potential rain and snow ahead. Before you buy or sell a home, you should always have a home inspection performed to catch potential issues that may cause problems in the winter.
Look out for any warning signs that can be masked by the pleasant summer weather, such as areas with water stains or warping wood. However, these issues should be caught by a home inspection, avoiding negative surprises in the future.
For Summer or Winter Home-Buying — Contact Our Team!
There are many factors to balance when buying a home, with the time of year being just one to consider. To ensure your home buying or selling process is as simple and enjoyable as possible, go with the trusted and experienced team of Realtors at Dante Real Estate. We'll help with every step of the process, and help find your dream property in Sedona! Contact us today to get started.