What to Know About Selling Your House
When Is The Best Time to Sell A Home? And At What Price?
When a homeowner makes the decision to put their house on the market, the first thing they want to know is if it's the right time to list and what is the best listing price. Because these questions depend on various things, we're going to dive a little further into this topic.
---
First, When is the Best Time to List Your Home?
There's no set rule about when to put your house on the market, but there are definitely pros and cons for each season. Your safest bet is to contact a Realtor who knows what the market is like at the time.
Spring:

Typically, people tend to list their home for sale and look for homes to buy in the spring. Selling in the spring gives home buyers an opportunity to get settled in before the school year starts and more buyers are actively looking for homes for sale, which means increased competition.

Summer:

A downside to selling in the summer is that many people go on vacation during this time. However, if you list your home in the summer, you'll be marketing to parents who want to avoid their kids switching schools during the school year.

Fall:

Buyers looking for a home at the end of the year could be looking to take advantage of tax breaks, and it's also an opportunity to show your home with the beautiful fall colors of Sedona.

Winter:

While winter isn't a traditional home selling season, there are homebuyers who specially shop during this time for the better rates. Buyers during this time may be more motivated and willing to purchase at a higher price.
Other Factors That Go Into Deciding On A Time to List
Seller's Market/Buyer's Market: In a buyer's market, there are more homes for sale than the number of buyers, making it easier for buyers to ask for transfer tax or home improvements. In a seller's market, the demand is greater than the supply. This is by far the best time to list your home. Contact your Realtor to determine where the market is at the time.
Job Growth: What is the Sedona job market looking like? If there is new construction, or any major businesses looking to hire, there will be more people looking to buy a house. On the other hand, if businesses are laying people off, budgets will be tighter, and people will stay where they are.
---
Second, What is the Best Listing Price?
There's no doubt it's challenging finding that sweet spot — list your home too high and buyers may not look at it, list it too low and you won't get a desired sale price. So how do you find that perfect price?
List Price vs. Sales Price
There's a lot of information you can gain from looking at how other sales were completed. Ask your Realtor to pull stats from the previous six months for list prices and final sale prices in your area. With enough data, you can calculate an average difference and price your home accordingly. For example, if the average list price in your area is $300,000 and the average sold price is $315,000, determine what your desired final sale price is and list it for $15,000 below that.
Comparable Homes
Just like looking at the history of the area, you should also look at comparable homes that have sold in your area. If your home has three bedrooms, two baths, and is 1,800 square feet, find homes with similar specs and look at their list and sale prices. Also take into consideration if your home has upgraded features, such as stainless steel appliances, granite countertops, double sinks, finished basement, etc. These can increase the price of your home.
Look to the Market
Just like deciding on when to list your home, the market can also factor into what price you list the home for. If there are a lot of buyers with a lower supply, you can list your house for a higher price. If there aren't many buyers who are all trying to buy from a large supply of homes, make your home more appealing by having a lower listing price.
If you are planning on listing your home for sale, work with a qualified Realtor who can look at the market and current statistics to determine that perfect list price.
---
Decluttering, Staging, and Curb Appeal
Before you list your home for sale, it's important to prepare it for an influx of visitors who come to pick it apart and decide if they want to make an offer. This part of the process can be challenging, and understandably so. Your home is a space that you've spent years in, making it your own, putting up decor, painting walls, and planting trees; however, now is the time to remove yourself from the home.
Home buyers want to be able to imagine themselves living in the house. If they walk in and see a family photo hanging in the entryway, they will automatically be reminded that it isn't their home. If they drive by and see dead trees, an overgrown lawn, and cracks in the driveway, they'll see problems that have to be included in the negotiations, issues that they'll have to fix themselves, or they might not stop and look inside at all.
If you're putting your house on the market, be sure that it's ready to go before you list. If you wait until after, you could be showing an unprepared home and potentially losing out on offers.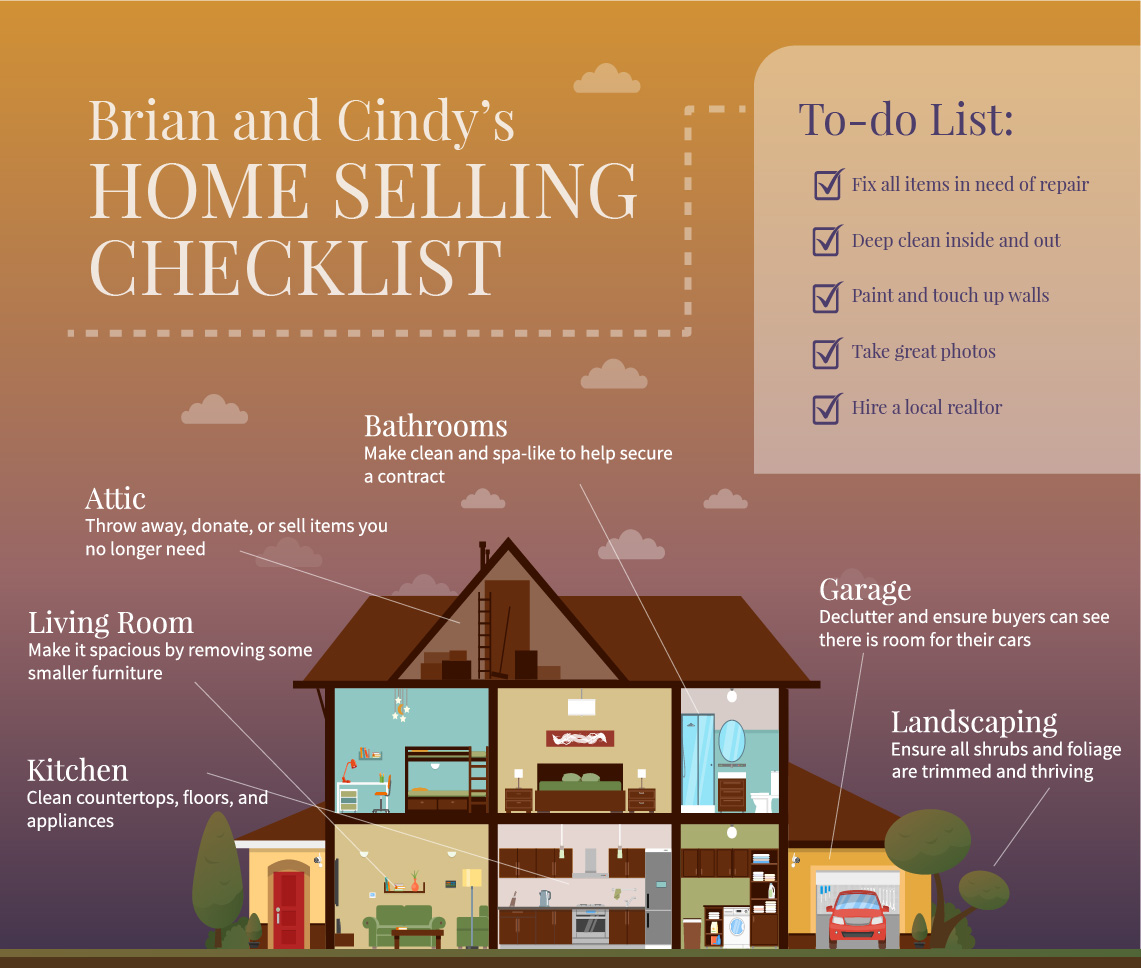 Decluttering
Many homeowners will simply clear away the mail on countertops and pick up toys before an open house, but truly decluttering a home should take it a few steps further. Start with each room and pick out items that you know you won't need in the next month or so.
Entryways:

Put away shoes and coats or jackets that aren't in season.

Kitchen:

Clear out smaller kitchen appliances, keep countertops open, and the sink empty. Homebuyers will want to see the inside of some cabinets, so consider walking through the house as if you were the homebuyer and open a few cabinets to see what they look like.

Living Room:

Yes, toys need to be put away, but the living room is a space that can be decluttered to the max. To make the space appear bigger, consider renting a storage unit and removing loveseats or end tables. If there are miscellaneous items on bookshelves (magazines or decorative knick-knacks), put those away to make everything look clean and neat.

Bedrooms:

Make sure that bedsheets are always made and pack away out of season clothes so that closets are neat and organized.

Whole House:

Remove any family photos to keep everything as neutral as possible. Before an open house, make sure to go through and dust surfaces. If there are any walls in the home that are not neutral, spend some time and money to paint them.
Staging
If you are aggressive with your decluttering, you could probably get away without having professional staging done. However, for home sellers who want to sit back and let the professionals do their job, home staging can be extremely beneficial. When your home is staged, a new set of eyes will come in and possibly reorganize how pieces of furniture are arranged to maximize space. They can offer advice on what to remove from the house to make sure that visitors feel welcomed and at home. And when a buyer feels at home in a space, and is more able to visualize their own belongings, the more likely they are to make an offer!
Curb Appeal
While most home buyers are looking online and fall in love with a home before even visiting it in person, it's crucial that every detail is perfect. That means the front and back yard too. If you've been putting off cleaning up leaves from the fall and winter, or waiting to add mulch to the flower garden, make that a priority. Even if you have a to-die-for open kitchen and the finest finishings in the bathroom, if the yard is unlivable, home buyers will walk away. Or, just one visit from a landscaping company can help improve the appearance enough to get potential buyers inside the home, where you can wow them with the kitchen layout.
Most Important Repairs to Make Before Selling
When you're working on decluttering and preparing your Sedona home for open houses, keep an eye open for things that need repairing. Even little fixes and here and there can make a big difference when potential buyers come in to look at the house.
Paint:

It doesn't need to be professionally done to make a big difference in the appearance of a room, especially if the room was bright blue or purple.

Exterior:

Add additional mulch around flower beds, replace missing boards in the fence, and consider pressure washing the siding if it's in the budget.

Kitchen:

Make the kitchen as aesthetically pleasing as possible without spending a lot of money. Fix leaks in the faucet or upgrading the hardware on the cabinets can be enough to improve the look.

Bathroom:

Look out for mold in the corners of the shower, thoroughly clean around the toilet, and make sure the shower curtain liner is clean.

Do a Pre-Sale Inspection:

To make sure everything is functioning as it should, a pre-sale inspection can help you find problem areas before you list your home. And if there are problems, you can fix them before the home buyer's inspection is done, making the process as smooth as possible.
At Brian & Cindy Real Estate, our experienced realtors know that selling a home can be an emotional experience, but that's what we're here for. We've been through this process hundreds and thousands of times, so you can be confident that we'll be there to guide you through each step and to answer any and all of your questions.
From the moment you decide to sell your house, to the final closing, our team of realtors will ensure you get the most out of your home.
Contact us today or fill out the form below to get started!
---